Monmouth/Ocean County's Most Reliable Exterminator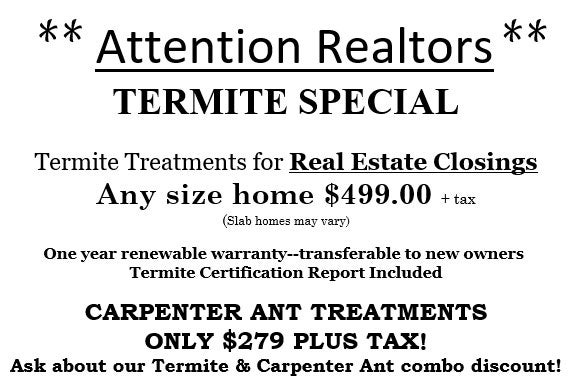 The last thing you need in your beautiful home is pests who detract from its beauty and even damage its structure. No matter how well you take care of your home, it can still be prone to pests since wildlife is unpredictable. The next time you are bothered by unwanted guests, whatever the size or species, give Eastern Termite and Pest Control a call. Our staff at Eastern Termite and Pest Control has more than 30 years of experience in the pest control industry here in Monmouth County. UNDER OUR WORRY-FREE SERVICE WARRANTY, YOU'RE COVERED.
As our customer, you can relax knowing that you're the priority when it comes to getting the service you expect and the value you deserve. Eastern Termite and Pest Control provides first class customer service. If you ever have a problem, it becomes our problem the first time you call. No runaround, no hassles. Eastern Termite and Pest Control is a family-owned and operated business that ensures maximum safety for your children and pets. Call Eastern Termite and Pest Control and make an appointment today.
Pest & Wildlife Services
As Monmouth County's premier exterminator, we are well-equipped to handle any type of pest. We have state-of-the-art equipment and knowledgeable exterminators on staff. By using the correct and most efficient methods to eliminate your pests, Eastern Termite and Pest Control is able to get rid of pests and keep them at bay afterwards as well. Below is a list of the types of pests we can exterminate for you.
Our staff will come to give your property a thorough carpenter ant and termite inspection to see if you have an infestation. Should we find evidence of either pest, we'll take the proper steps to remove them safely for you.
Eastern's 2-In-1 Mosquito and Tick Program
Reclaim Your Backyard from the dangers of mosquitos and ticks with Eastern's safe and effective treatment program.
Mosquito Application
Mosquitoes have the capability to transmit viral diseases. They are not parasites like ticks, bed bugs, and other insects that are exclusive blood feeders. Like most insects, mosquitoes, rely on sugar for energy, obtaining it from plant nectar and plant juices. In fact, male mosquitoes don't bite at all. It's only the female mosquitoes that bother us, as they need blood to develop fertile eggs. From this blood meal, the female extracts all of the proteins and nutrients needed to produce up to 300 eggs at a time.
Our licensed technicians apply an insect growth regulator treatment to non-flowering vegetation, plants, and shrubbery surrounding your home, as well as underneath decks, in order to target daytime resting adults. Once the area is treated, you will see a great reduction in the mosquito population.
Reduce the Breeding Population
You can stop inadvertently breeding mosquitoes by getting rid of standing water! Mosquitoes require water to complete their lifecycle. If there is no water, there is no breeding opportunity.
Empty birdbaths
Discard tires, cans, and other containers that hold water
Ensure proper drainage around your home
Correct any ponding issues on your property.
Tick Application
Ticks, like mosquitoes, transfer diseases from one host to another. Eastern's tick reduction program minimizes the likelihood of tick entry into your yard by specifically treating the areas throughout your property known to harbor ticks.
We dispense a low-grade adulticide blower treatment to tumble all sides of leaves and exposed dirt to control ticks. Treatment is also performed beneath decks and structural overhangs, as well as the perimeter of the property.
Call us today to reclaim the safety of your property!
House Ants
German Roaches
American Roaches
Brown Banded Roaches
Oriental Roaches

Cellar Spiders
Brown Recluse Spiders
Ground Spiders
Garden Crickets
Earwigs

Box Elder
Silverfish
Carpet Beetles
Webbing Clothes Moths
Stink Bugs
Your home is your haven, so you shouldn't have to be afraid of what lurks in the corners. Even if you're brave enough to squash bugs and spiders, that still doesn't eliminate the source of the problem. Eastern Termite and Pest Control has the efficient and safe solutions to keeping creepy crawlies out of both your home and your garden so you and your family can feel safe again.
Hornets
Yellow Jackets
Paper Wasps
Honey Bees

Mud Daubers
Bumble Bees
Cicada Killers

Solitary Bees
Fleas
Bed Bugs
Not only are bugs a nuisance, but they can cause health problems as well. From annoying itching to serious allergic reactions, bugs and bees can be threats to your family's wellbeing. At the first sign of any of these pests, just give Eastern Termite and Pest Control a call and we'll exterminate them for you efficiently.
House Mice
Voles
Rats
Moles

Squirrels
Raccoons
Ground Hogs
Opossums
Although they may seem cute, rodents and other types of wildlife can also pose a threat to your family's health. Not only are they unpredictable and can hurt your family, but they can also introduce disease and parasites through their urine and droppings. Eastern Termite and Pest Control can set up a humane mouse trap to catch mice and rats so they can be released back in the wild.
Should you suspect an infestation of any type of pest not listed above, please don't hesitate to give us a call. We are Monmouth County's most reliable exterminator, which means we'll go above and beyond to help you keep pests away for good.
Get rid of pests in a safe way: 732-741-2334